From First-Generation Student to Future Doctor
Gabriela Jaimes lives by two quotes. The first, coined by Latino civil rights activist Cesar Chavez to unify American farm workers, is: "Sí se puede," or "Yes, we can."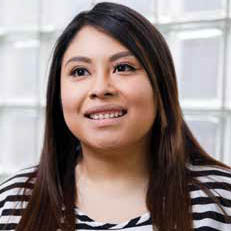 The second references something her father told her when she first encountered failure in her dream to practice medicine. "How bad do you want this? How bad do you want to succeed," Jaimes recalls.
A recent graduate of Indiana University Northwest, Jaimes comes from a background filled with incidents of overcoming adversity. With little education and limited knowledge of English, her parents came to the United States to escape poverty in Mexico. The oldest of five children, Gabriela is not only a first-generation college graduate, but the first in her family to graduate both middle school and high school.
"Not only is this my story, but this is my community's story. There's somebody within my community who has this same opinion, From First-Generation Student to Future Doctor this same view, who is also struggling," Jaimes says.
The support that Jaimes found at IU Northwest changed the trajectory of her life. It allowed her to believe in herself and take advantage of the many opportunities the campus offers. This year, IU Northwest will dedicate a community center affiliated with the Office of Diversity, Equity, and Multicultural Affairs, where members of the campus community can host workshops on diversity and inclusion and plan various activities. The campus also is expanding its Re-Imagining the First Year experiences, an effort that provides students with an introduction to college life and various academic supports to persist to a degree.
Jaimes is only one example of the results of these efforts. She graduated in May with a double bachelor's degree in chemistry and Spanish, as well as a minor in biology. One day, she hopes to return to Mexico to open a clinic in the same region where her father once lived in a home made from sticks. In doing so, she hopes to continue a story that will make her, her family, and her community proud.
"If one person has success, we all celebrate." she says.