Music Transports Everyone
At 11 a.m. every Tuesday, Jennifer Ortiz and Jose Aponte sit down in a glass-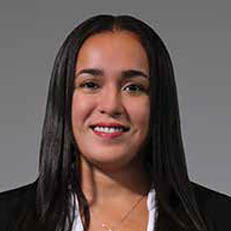 walled radio studio in IU Southeast's University Center. From there, they transport listeners on an hour-long journey through the musical traditions of South America, Central America, and the Caribbean. Now nearing a year on the air, the duo's Latin Lunch Hour highlights the diversity of Spanish music, while exploring the cultural and political forces that continue to shape the genre today.
"Music is easy for people to understand— even if you don't know what the words are, you can enjoy the beats and instruments. Music is one of the easiest ways to show people how different countries operate," Ortiz says.
The Latin Lunch Hour emerged from one basic goal: to bring Spanish music from cultures beyond Mexico to the IU Southeast community. Ortiz, an assistant professor of criminology and criminal justice, and Aponte, a student in the Masters of Interdisciplinary Studies program, both experienced this deficit firsthand. As Puerto Rican members of the IU Southeast community, they decided to use their radio program as a way to broaden the community understanding of Spanish music to include cultures like theirs.
Ortiz and Aponte try to place such music in the social context that influences it. They also trace the growing popularity of Spanish music in popular culture, examining its influence on songs ranging from Luis Fonsi's "Despacito" to Cardi B's "I Like It." In doing so, Ortiz and Aponte hope to introduce IU Southeast students to cultural experiences far beyond what might be found in southern Indiana.
"For many students, [college] is their first experience engaging with different cultures, different races. I think it's our responsibility to make sure these students graduate with a broader knowledge base besides what is found in textbooks," Ortiz explains.