Stacy Hardy's journey to an IU degree was not a straightforward one.
Stacy Hardy's journey to an IU degree was not a straightforward one. A student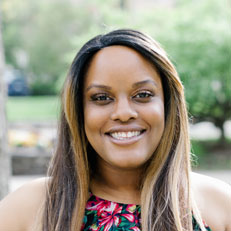 interested in art and interior design, Hardy came to IU Bloomington right after high school. However, after two years, Hardy's mother moved to North Carolina; no longer considered a dependent in the state of Indiana, Hardy lost her scholarship. She was forced to leave Indiana University and pick up a job to pay her bills, including outstanding college costs leftover from her lapsed scholarship.
In 2015, eight years since she left the university, Hardy paid off her debt and returned to IU to finish her studies. And with the help of the Carrie Parker Taylor Scholarship, a scholarship designed to help students involved with OVPDEMA in financial need, she earned her degree in interior design. Now earning a Masters degree from the J. Irwin Miller Architecture Program at IUPUC, Hardy credited the scholarship for her ability to finish her undergraduate education after over a decade of hard work.
"It couldn't have come at a more perfect time, because I was really starting to worry I would have to drop out again, because I didn't have the funding," Hardy said.
The Carrie Parker Taylor Scholarship, named after the first African American woman to attend Indiana University, did not just allow Hardy to remain at IU. It also allowed her to focus more on her studies, as less of her time was spent working to fund her education. As a result, Hardy excelled in her final years at IU, earning remarkable grades and paving the way for her acceptance into the Masters program in architecture. It also allowed her to pursue opportunities such as a community trip to the Dominican Republic. Today, Hardy continues to exemplify the work ethic and determination that Carrie Parker Taylor's story represents.
"The more you apply yourself and jump for it, even if you don't think you might get it, you have a better chance than if you didn't apply for it," Hardy said. "Jumping onto any opportunity that you can, because you're bound to land somewhere."