For the second night in a row, a crowd began to gather in the Fine Arts Plaza.
Students held signs Thursday night including one that said "LOVE TRUMPS HATE." A rally by the same name had occurred in the same place the day before.
One girl, with a patch of rainbow stripes painted on her cheek, held a sign that read "and still, like dust, we will rise."
A group of students from the UndocuHoosier Alliance stood at the front of the crowd. The group is asking IU to declare itself as a sanctuary campus to protect undocumented students from deportation. One of their signs said "Sanctuary 
Campus Now."
Only one word was written on the road around Showalter Fountain: LOVE.
Students, faculty and community members were invited by the dean of students to a Unity Gathering in the Fine Arts Plaza. Lori Reesor, dean of students, sent an email to all students inviting them to the event, which included speakers Provost Lauren Robel, Vice President James Wimbush and student leaders.
Robel said she has been trying to make sense of the last few days and think about the future, and there has been one thing going through 
her head.
"We are one IU," Robel said. "We believe in the intrinsic dignity and worth of all members of our community. We believe past our differences, past our disagreements on positions, but we don't disagree on our common humanity. We are all IU, every one of us, full stock, no exceptions."
IU has a culture of care, is committed to diversity and inclusion and is a great place to be, Wimbush said.
"I know that over the last couple of days, there are those who have felt some happiness," Wimbush said. "For me, it's been sadness — a deep, internal sadness."
Wimbush recited a Negro spiritual from his youth he said he remembered when he woke up.
"I feel like going on, I feel like going on," Wimbush said. "Though trials may come on every side, I feel like going on."
Before Steven Johnson, president of the Union Board, introduced the event.
"Whatever you feel now, in its whole range and noise, and its similarity and its particular difference from the person next to you, is normal, and it's your feeling to own," Johnson said. "Recognize this unique experience in others."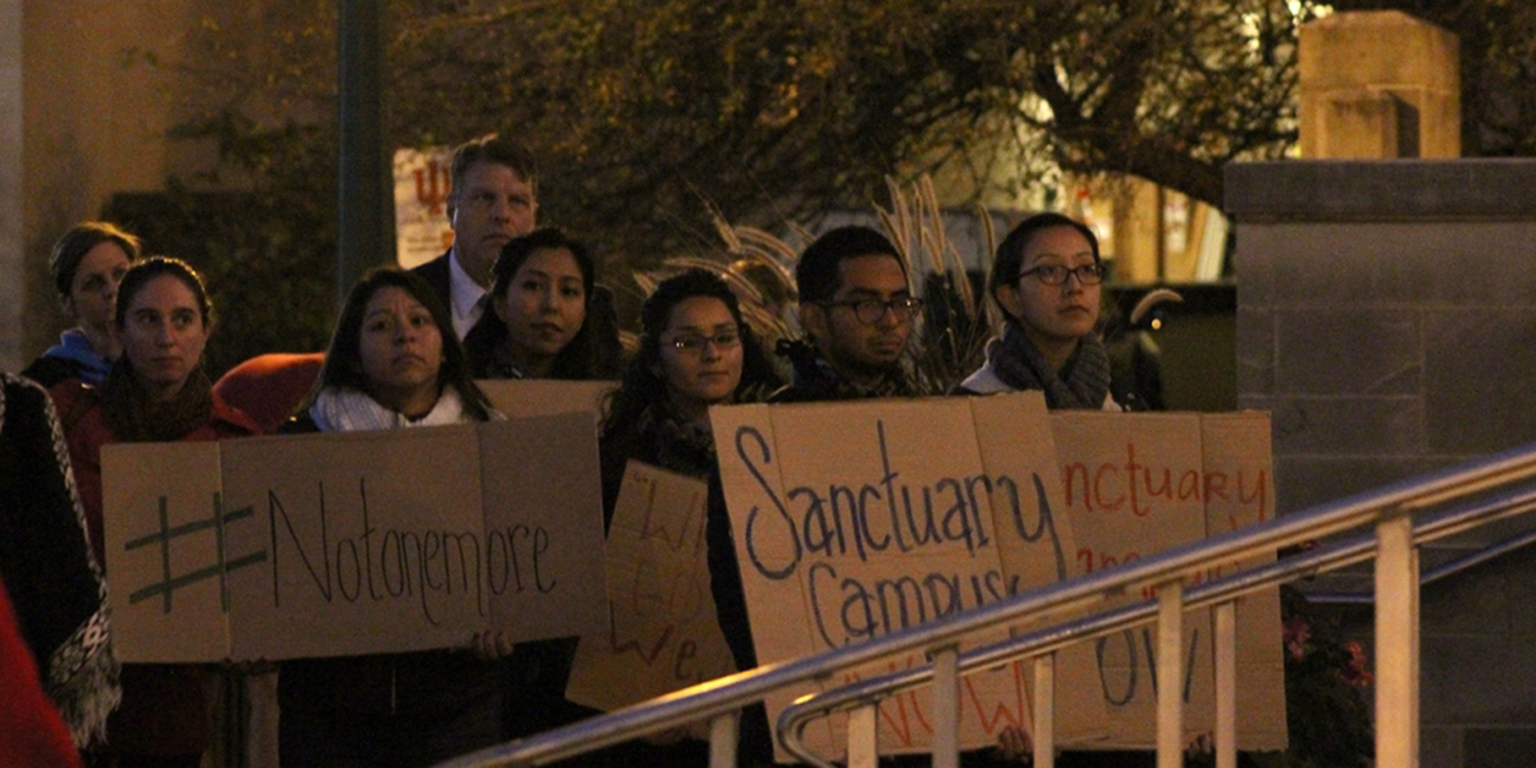 Kealia Hollingsworth, president of the Black Student Union, spoke about creating a more inclusive IU 
community.
"Marginalized communities must stand in solidarity with each other, and our allies should do the same, as we continue to fight the fight that we all know so well," Hollingsworth said.
The community must recuperate and take this time to come together to process what this means and find strategies to keep living and thriving, Hollingsworth said.
As Johnson returned to the microphone to end the event, two little boys ran behind him, prompting the crowd to laugh. Johnson quoted Stephen Colbert, saying "it's no easier to face something with energy and vitality than with dread and morbidity, it's only 
better."
After the rally, one girl posed in front of the auditorium for a picture. Her sweatshirt had the American flag printed on it.
Another girl sat on a bench next to the fountain, softly playing the guitar as people began to leave. The sidewalk around her had messages written in chalk, including "love will always win. Keep your faith," "love is always the answer" and "choose love 
instead."
Source: Indiana Daily Student