In any career field, forming professional connections is a key to success. According to Patrick Smith, executive director of IU's Mentoring Services & Leadership Development, college is the best time to start building those connections. It is in this spirit that dozens of IU Bloomington students gathered at Mentoring Services & Leadership Development's Career Dinner Symposium, held on Feb. 28 in Alumni Hall. Supported by the Office of the Vice President for Diversity, Equity and Multicultural Affairs, the Career Dinner Symposium allowed students to network with professionals from a diverse field of careers, with the goal of fostering professional relationships that will inform students' internship and career choices.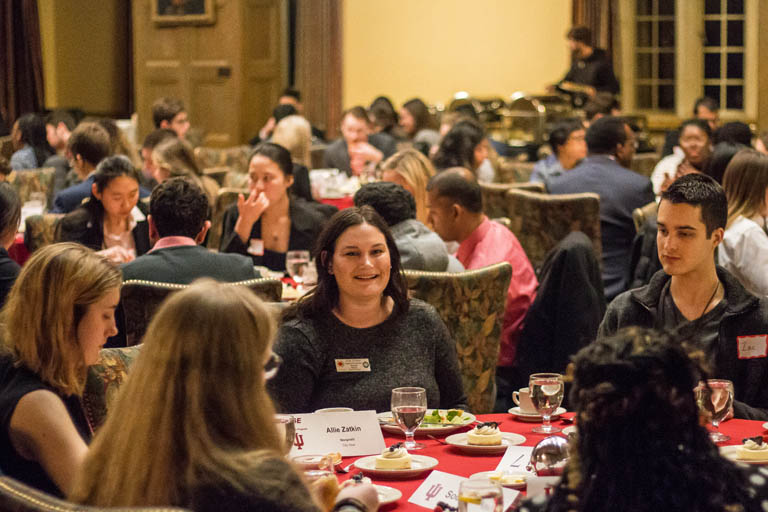 "The idea is to connect students of specific majors or specific career goals with the professionals who are actual practitioners of those career areas," Smith said. 
On the night of the event, this vision was on display even before the dinner began. As students dressed in formal attire signed in and waited for the dinner to start, they struck up conversation with over 20 professionals from fields including education, medicine, law and psychology. The discussions then continued over a professionally catered dinner, where students had the opportunity to practice professional etiquette while polishing up on their networking and elevator speech skills. In all, 110 people attended the dinner, offering students and professionals alike a unique opportunity for networking and professional development. 
A hallmark of the event was the wide variety of career fields represented by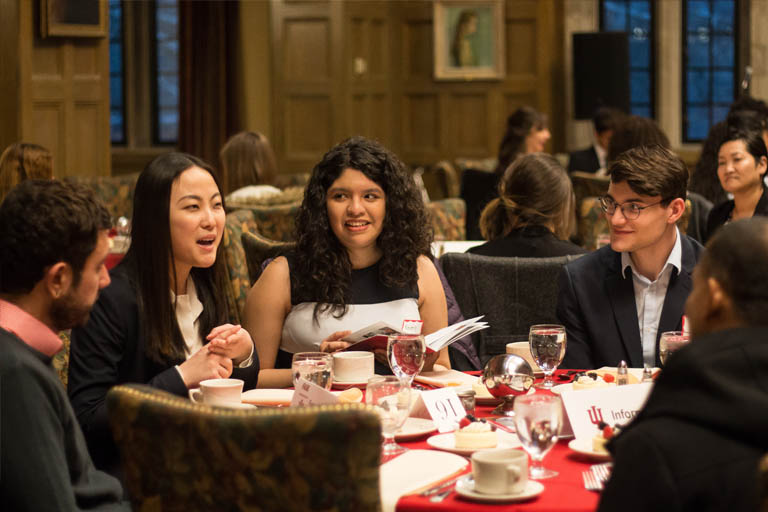 professionals in the room. With representatives from organizations including Eli Lilly, NSA Crane, the Monroe County Circuit Court, and more, students were able to network with professionals who mirrored their future career interests. 
One of the professionals who attended the event was Tyvoris Thomas, assistant headmaster at Seven Oaks Classical School in Ellettsville, Ind. As someone who has experienced both sides of the mentoring relationship, Thomas attended the dinner out of an excitement to share his passion for diverse education environments with students interested in education.
"[I attended] to give a clear understanding what to expect when working with students, from the curriculum side to operation and policy, and most importantly the student environment," Thomas said. "It's very important that you have a warm and welcoming environment for faculty, staff, and most importantly students; I believe that is the best approach in helping students put their best foot forward." 
By the end of the night, students walked away having fostered relationships with professionals in their future career field--relationships, Smith believes, that will provide benefits from future mentoring to internship or job opportunities.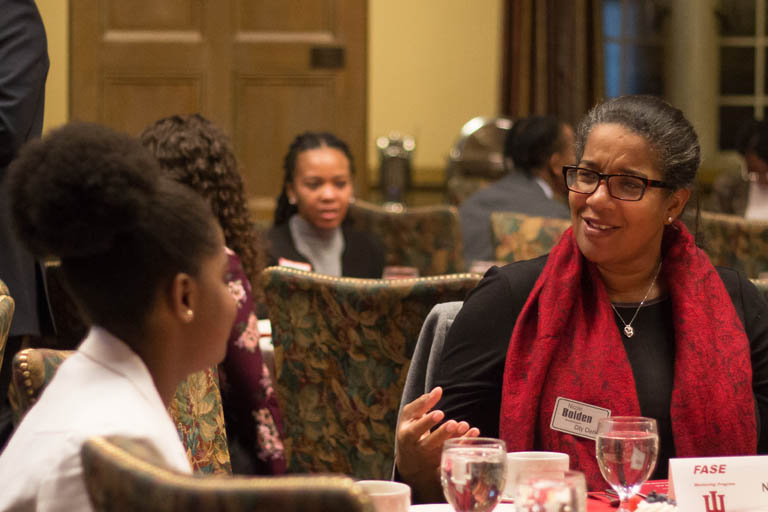 "That's what excites me about this event: being in a position to provide opportunities for students, to help them grow and develop and become the professionals they want to be," Smith said. 
Anthony Morales was one student who hoped to benefit from these relationships. A freshman planning to study psychology from Whiting, Ind., Morales attended the dinner to network with experts in psychiatry. As someone just beginning his journey into the field, Morales appreciated the opportunity to talk with professionals who had followed the path he hoped to pursue. 
"It's very difficult to just get thrown into something. As college students, there's so much on our plate," Morales said. "So to have someone here who has had that experience, they can really be a guiding factor and help ease off the stress of finding your way into a career."