For 36 years, Larry Gonzalez has worked for Indiana University, and for each of those 36 years, he has always found the time to join IU at Indiana Black Expo's Summer Celebration. As a senior associate director for undergraduate admissions, Gonzalez sees volunteering at Indiana Black Expo as a key way to introduce the opportunities IU offers to future generations of students. However, for him, doing so is also an important way of honoring the support he received in pursuing higher education.
"It's my way to pay it forward, because I was encouraged to pursue higher education, and I want to pay it forward and give back," Gonzalez said. 
Gonzalez was one of the many volunteers from all of Indiana University's campuses who gathered in downtown Indianapolis to celebrate at Indiana Black Expo's Summer Celebration. For over three decades, the Summer Celebration has brought individuals from across Indiana together in celebration of Black community, culture and leadership. As a top sponsor of the Summer Celebration's various activities, Indiana University helps host a number of events throughout the celebration designed to spark conversations about diversity and inclusion and showcase educational excellence.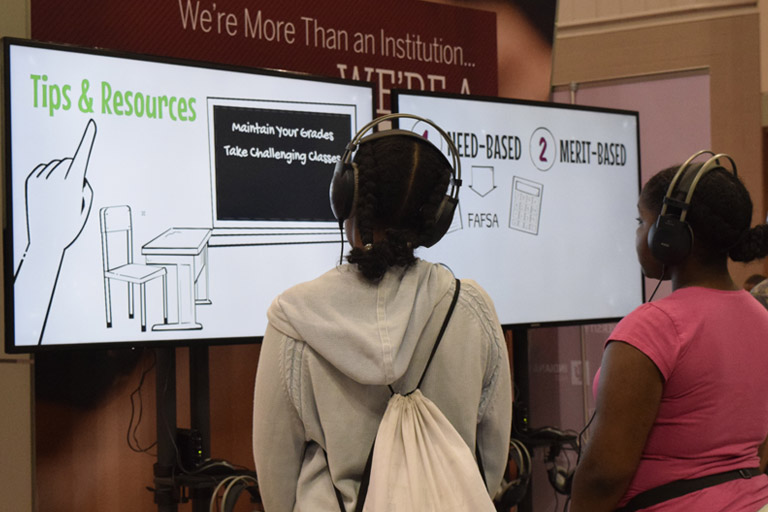 "It is an honor to join Indiana Black Expo as we mark another exciting Summer Celebration," said James C. Wimbush, vice president for Diversity, Equity and Multicultural Affairs, Dean of The University Graduate School and Johnson Chair for Diversity and Leadership. "For well over thirty years, we have partnered with Indiana Black Expo to honor culture, spark conversation and celebrate the communities we all share." 
IU's presence at this year's summer celebrations began at the Indiana University Education Conference, a gathering of educators, administrators and students from around the state dedicated to improving cultural competency and fostering positive educational outcomes for all students. At this year's Education Conference, scholar, writer and activist Shaun Harper and author and child advocate Regina Louise Kerr-Taylor addressed attendees on building a more inclusive and diverse world for all. At the conclusion of Harper's lecture, Wimbush also presented him with Indiana University's Bicentennial Medal in recognition of his pioneering leadership and research on diversity and inclusion.
"In the time since Dr. Harper earned his doctorate from Indiana University in 2003, he has truly made his alma mater proud, with a record of morally grounded scholarship and service that has positioned him as one of our country's foremost advocates for diversity and inclusion," Wimbush said in his remarks.
Other highlights of Indiana University's presence at the Summer Celebration included the Pacers Sports & Entertainment Corporate Luncheon, an event co-sponsored by IU that brought the state's most prominent community leaders, entrepreneurs and entertainers together for a formal luncheon. The luncheon also kicked off the opening of Indiana University's booth experience at the celebration's exhibition hall, where students and families could visit to learn more about Indiana University.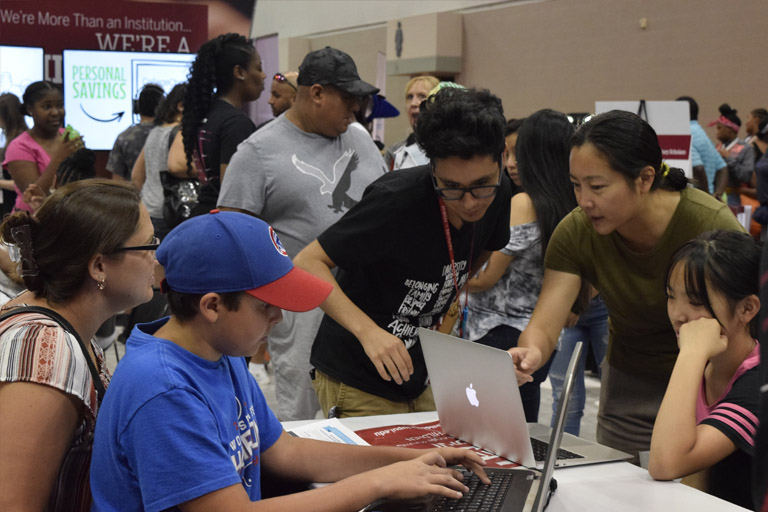 A key element of IU's booth at the Summer Celebration was the 21st Century Scholar Days, where students enrolled in the 21st Century Scholars Program could visit the booth to fulfill their pre-college requirements, check on their scholarship status and apply to IU without paying an application fee. Scholars who complete the program are eligible to attend participating Indiana colleges tuition-free for four years. Over the course of the weekend, all of the high school seniors who stopped by the booth took advantage of the free application opportunity, while all scholars had the chance to learn about college affordability and preparing for higher education. In all, over 800 individuals pre-registered to attend the 21st Century Scholar Days at the IU booth.
Throughout, representatives of IU made clear the transformative experiences that students from all backgrounds could find at all of Indiana University's seven campuses and two regional centers. With a number of staff present from all of IU's campuses, attendees were able to learn about the campuses and programs best suited to their educational journey.
"All of the campuses, whether we're rural or urban, serve our communities," said Kathryn Cruz-Uribe, chancellor of IU East.
According to Gonzalez, IU's presence at Indiana Black Expo's Summer Celebration allows Indiana University to reaffirm its connections to the community and make educational success possible for all students.
"We need to nurture our youth, and this event brings individuals from all age groups. We want to make sure they're on the right path to succeed in life," Gonzalez said.