When Dr. James P. Holland passed away in 1998, he left a long legacy at Indiana University, the institution where he received his master's and Ph.D. degrees, taught for 30 years, and made an impact on scores of students.
Today, his name lives on through the Hudson & Holland Scholars Program (also named for Dr. Herman C. Hudson, another legendary IU Bloomington professor) and a trio of programs for high school students: The James Holland Summer Enrichment Program (SEP), the James Holland Summer Science Research Program (SSRP), and the James Holland Research Initiative in STEM Education (RISE).
Holland established SEP to give promising and high-performing underrepresented minority students with a desire to explore the STEM fields and take a deeper dive into the world of science. As time went on, he tapped one of his former IU students, Mary Ann Tellas, to help him run the program.
"When I took my biology class freshman year, I was struck by Dr. Holland. He was very knowledgeable and just enjoyed sharing that knowledge with his students. He took a great interest in his students. Even long after I took his course, he still maintained contact and was interested in where I was in my studies, and how I was doing," recounted Tellas, a Bloomington native who received a bachelor's degree in biology and a master's degree in science education from IU.
"When I started teaching, he contacted me and said, 'I started a program and I'd like you to be a part of it.' I was honored that he even remembered who I was and on top of that, wanted me to be part of the program he started."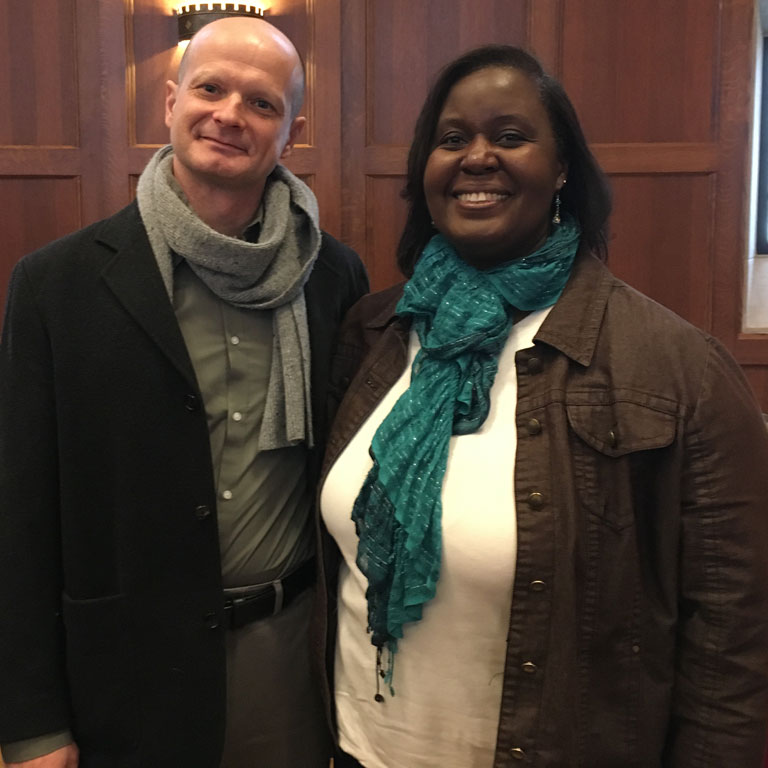 Tellas, who teaches high school biology in the Indianapolis area, developed the second-year component of the program, SSRP—originally known as the Eli Lilly Scholars Program—with her co-director, Armin Moczek, a professor in IU's biology department. Moczek, a native of Germany, shares Tellas' passion and last summer, they added RISE, a third-year program. Through these programs, students get a progressively deeper exposure to such disciplines as biology, physics, molecular and cellular biochemistry, math, statistics, geology, and atmospheric sciences.
SEP is a weeklong program that introduces underrepresented minority students from across the state (and even beyond), typically rising high school freshmen and sophomores, to lectures, labs, and hands-on activities like field trips and tours of local science-related companies. Student selection involves an application process that includes their grades, teacher recommendations, and an essay about why they want to be in the program, why there's a lack of minorities in the STEM fields, and how the issue can be addressed. Tellas described the essays as "difficult to read," because of the personal nature of the responses, and how students demonstrate their awareness of the implications behind the lack of diversity in STEM.
SSRP consists of students who are invited back from the first-year program, and focuses on research. Students are paired with a faculty mentor in an IU laboratory and work on a research project, and at the end of the week, the young researchers present their findings in a poster conference in front of family and the IU community—as the first-year students arrive on campus for SEP, giving them an aspirational goal.