Recruiting season can be stressful. Coming up with the perfect pitch, making a good first impression with recruiters and planning the appropriate outfit all go into consideration the night before a big career fair. Along with the regular recruiting concerns, diverse students can experience more anxiety in navigating the recruiting cycle because of concerns regarding nationality, LGBTQ identity and disability status. 
These anxieties were specifically addressed on Wednesday, February 6,  during the workshop, "Keeping It Real: How Do I Stay True to Myself While Talking to Employers." Hosted by Indiana University's Mentoring Services and Leadership Development in partnership with Eli Lilly and supported by the Office of the Vice President for Diversity, Equity and Multicultural Affairs (OVPDEMA), the workshop allowed students to come in with questions regarding how to approach the recruiting cycle as a diverse candidate while maintaining authenticity.  
Student Adara Donald described how she wanted to come to the event to learn and prepare for her future career. 
"I wanted to come to this event today because I worked in environments where I kind of didn't know how to stay true to myself," Donald said. "I always had to code switch back and forth between who I was and what the environment was expecting. I wanted to learn how to be able to stay true to myself in work environments for when I enter the workforce when I graduate in a couple of years."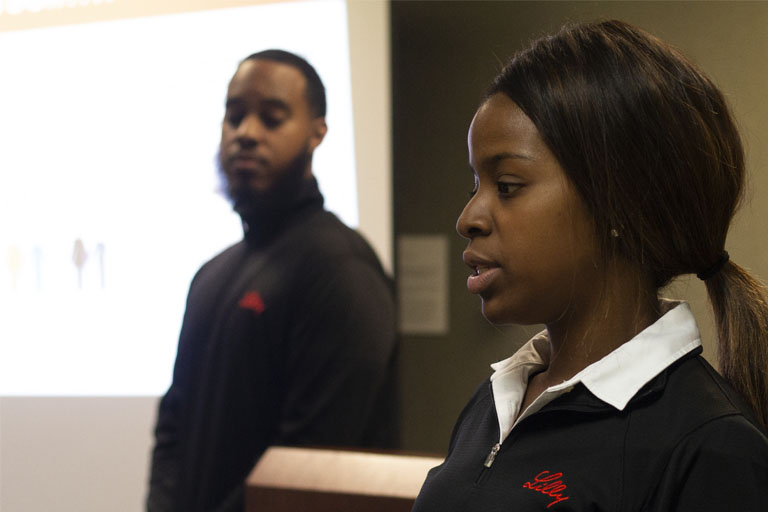 The hour-long workshop dove deep into topics less talked about in standard recruitment informational sessions. According to Kirsten Davenport, the Eli Lilly Campus Relations Manager who led the workshop, "Keeping It Real" came about because she saw a real need from students. 
"After I would lead resume reviews or just generic programming, a lot of the diverse students would come up to me and ask, "how do I know I'm not being hired because I'm a minority?" or "when do I disclose this personal information about myself," Davenport said. "Because of that, I thought there were probably other people out there who felt the exact same way but didn't have enough courage to ask it. I really wanted students to be empowered and know what their legal rights were." 
After setting ground rules of respect, the workshop began with an activity of self-reflection. Participants were asked to truly think about what was most valuable to them. As people went around the room sharing their answers, Davenport stressed that future company values had to align with personal values in order to find the right company for the candidate. Students were also asked to vocalize their strengths. The exercise was used to illuminate students' strengths and build confidence in their true abilities.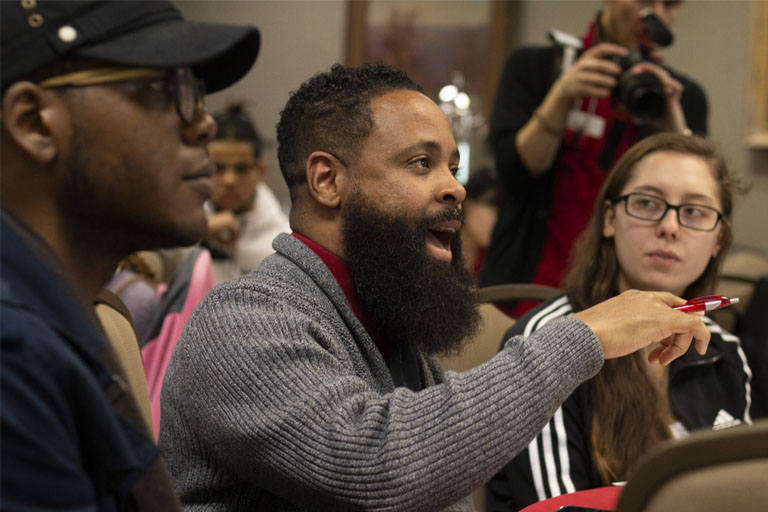 Sensitive issues were discussed in an approachable and safe environment, and topped off with reaction GIFS on the PowerPoint. Attendees laughed and nodded in agreement while sharing their own stories about recruitment season. Later on in the workshop, Davenport led the attendees through a series of scenarios and identified specifically what questions recruiters were and were not allowed to ask candidates. 
At the end of the workshop, Eli Lilly leaders left students with a message of empowering oneself and relinquishing self-doubt. Kathy Laderach, the Director for Campus Talent Acquisition Eli Lilly, hoped that the workshop helped students feel heard. 
"I hope it helps meet an unmet need or helps answer questions that are really important to students seeking jobs," Laderach said. "Hopefully, the workshop showcases our company culture and belief in trying to meet unmet needs, not only with agents but also with potential employees." 
IU student Anastasia Miller found the workshop made her feel more prepared for future recruitment events. 
"When I had gone through interviews previously, I wasn't sure how to conduct myself. Coming to this workshop gave me more on how to conduct myself and know what to say." 
Patrick Smith, Executive Director of Mentoring Services and Leadership Development, described how future programming like "Keeping It Real" will help students and all of the IU campus for the future. 
"It's accurate to say that these workshops will continue to take place and given how things are materializing, there's an opportunity to really nurture a climate that's going to be supportive of all of our students, regardless of their background, orientation, or ethnicity. And that's really important," Smith said. "OVPDEMA is really providing an important service for not just students of color, but contributing to the university as a whole."